Organic Certification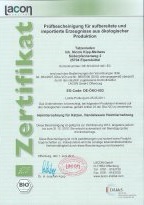 The term "organic" is defined by EU law and organic products have strict production and labeling requirements. This means that anyone who is using the term "organic" on a food product will have been certified by a body recognised by the EU.
To maintain our certification we undergo a rigorous annual audit inspection involving record keeping, audit trails of products and many other aspects of our operation to ensure the integrety of the products we sell as "certified organic". Any organic product sold in Germany must by law display a certification number and each certification body has its own symbol and EU code number.
Your guarantee that we do meet the organic standards is our certifier
We are certified by Lacon, which has been, and continues to be, one of the leading organic certifying agencies in Germany. Certification assures our customers that a set of standards is being applied, and that they are publicly available. Without the certification number, there is no surety that any standard has been consistently applied.
Tatzenladen certification number: DE-ÖKO-003.
To view our certificate online simply follow the link Organic-Certification