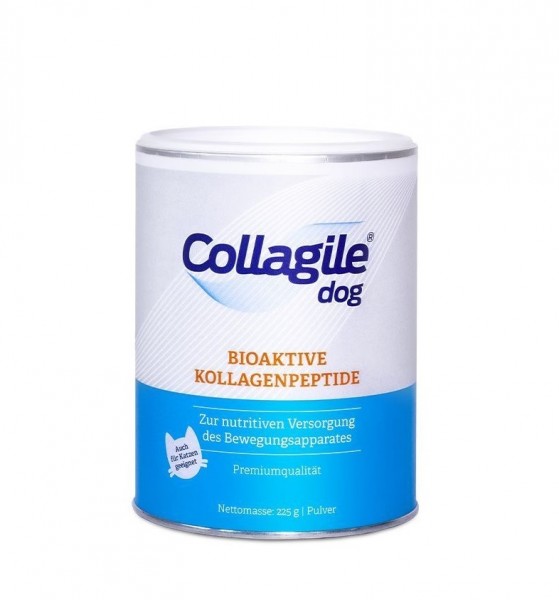 Content:
225 g (€8.87 * / 100 g)
Prices incl. VAT plus shipping
Item in stock
Delivery time appr. 3-7 business days
Order number:

181019999



- Supports cartilages, muscles,
bones, ligaments and tendons
- Keeps physically active and mobile
- For a shiny coat and solid claws
- Promotes health without side effects
- Also suitable for cats - What makes Collagile® unique? Collagile® consists exclusively of...
more
- Also suitable for cats -

What makes Collagile® unique?
Collagile® consists exclusively of Bioactive Collagen Peptides®, a highly purified and concentrated extract gained from a specific enzymatic degradation process of native animal-derived collagen.

How do animals benefit from Collagile®?

Elderly animals
- Supports the entire musculoskeletal system
- More joy and better quality of life
- Helps with getting-up
- Supports climbing stairs

Young and active animals
- Provides more joy during activity
- Supports daily activity and athletic mobility
- Supports unrestricted movement
- Helps to improve endurance and flexibility

Native collagen is treated with hot water and then extracted and broken down into larger molecular weight components. These larger fragments are then enzymatically degraded into low-molecular weight peptides the so-called Bioactive Collagen Peptides®. The final Collagile® pet product has a high bioavailability, meaning our Bioactive Collagen Peptides® directly reach the blood stream and are almost completely absorbed by the body.

Collagile® impresses with good tolerability and highest quality. From the age of 13 months on, it offers optimal, species-appropriate, natural food supplementation according to the needs of your pet.

- Natural and pure
- No side-effects during long-term use
- Neutral in taste and odor
- Free of fat, purines, cholesterols, food additives, colorants, and synthetic flavoring agents
- Small doses allow for easy handling at feeding times
- Suitable for allergy sufferers and diabetics
- Certified quality from Germany

Ingredients
Bioactive Collagen Peptides® (100%)

Analysis
Protein: 90 %
Fat: 0 %
Fibre: 0 %
Ash: < 2 %
Moisture: 8 %

Daily Feeding Recommendations for dogs and cats based onm weight:

up to 4,9 kg: 2,5 g / per day
from 5 kg: 5g / per day
from 8 kg: 7g / per day
from 28 kg: 10,5 g / per day
from 45 kg: 14 g / per day
over 70 kg: 17,5 g / per day

Collagile® pet should be administered regularly on a long-term basis.

The powder is neutral in taste and odor and can be mixed with canned food. In case you would like to add it to dry food we recommend moistening the dry food with water and then adding Collagile pet. You may also dissolve Collagile® pet in yogurt or cottage cheese.


Additional info for the item "Collagile Dog, 225 g"